Last December my Pastor brought home 2 dogs
to train as security guards
since there have been a number of burglaries in our neighbourhood.
They are the common Indian pariah pooches.
Their names are Nitty (L) and Naughty (R)
I prefer calling them Natty and Knotty.
Naughty true to his name is quite a scamp.
They are chained up all day and let loose at night.
They are not house pets like Sheeba., but are well taken care of.
Although they are are a bit of a nuisance around Sheeba and have
dug up our garden and run off with slippers and shoes.

Princess Sheeba looking straining into the lens.
David of Sugarloaf Mountain
mentioned the phrase
'Who let the dogs out ' on his blog.
There is a song by that title too.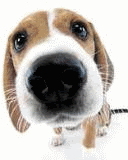 I think it means
Who caused the trouble?
Googling the phrase revealed
various analysis .
What do you think the phrase
'Who let the dogs out ' means ?
Well don 't take it too seriously.
I don 't know if I am wading into troubled waters.